Covid 19 lockdown
In response to the Covid 19 lockdown all out-patient clinics are only being booked ad hoc and when deemed necessary after virtual consultations by telephone or video link.
Covid 19 Consultations
Information about remote consultation by telephone or video call.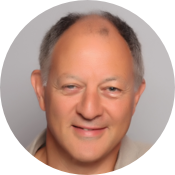 My name is Michael Rose and I am a Consultant Neurologist of more than 25 years standing. I was in NHS practice at King's College Hospital in Denmark Hill, London, and at Queen Elizabeth Hospital in Woolwich, London until July 2019. I continue to do NHS work part time at Whittington Hospital. I conduct Private Patient clinics at The Blackheath Hospital, and at London Bridge Hospital as well as Virtually by video or telephone.
Neurologists like myself deal with symptoms including headaches, dizziness, paralysis, weakness, speech disturbance, blackouts, seizures, memory impairment and similar. They deal with diseases such as stroke, Parkinson's disease, multiple sclerosis, epilepsy, brain tumour, spinal disease and dementia.
In addition I have a particular expertise in muscle disease.
This website will explain what to expect from your consultation and the various investigations that may be used, as well as information of possible relevance to your neurological disorder.